Can You Use Exterior Paint Inside? Your Comprehensive Guide
Hello, dear residents of Georgia! If you've found your way to this post, it's likely you're holding a can of paint in hand, pondering, "Can I use exterior paint inside for my living room walls?" Or you're looking at all the exterior paint you have and would like to bring the outside colors to the inside. Either way, at Dependable Painting & Remodeling, we hear you and have your answer.
Let's delve into the world of paints together and figure out if you really want to use that exterior paint for the inside of your home.
What's the Difference Between Indoor and Outdoor Paint?
When you stand in the paint aisle, you've likely noticed cans labeled for "interior" or "exterior" use. But what really sets them apart?
Interior Paints
Finish and Texture: They offer a variety of finishes from matte to glossy, suitable for different rooms in your home.
Low VOCs: With health in mind, these paints generally have fewer volatile organic compounds.
Easy Cleaning: Spilled some coffee on the wall? Interior paints are often easier to clean.
Exterior Paints
Weather Resistance: Be it rain, sunlight, or fluctuating Georgia temperatures, these paints can handle it.
Protection against Microbes: They often contain chemicals that prevent mold, mildew, and other microbial growth.
Higher VOC content: These compounds help the paint endure the elements, but they come with a strong smell.
Drawbacks of Bringing the Outdoors In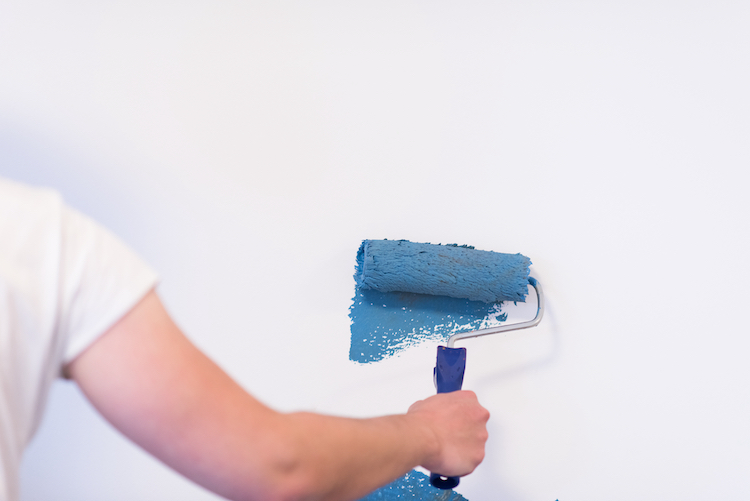 While exterior paints of certain types might seem ideal for various surfaces, using them inside your house can present certain challenges:
Pungent Fumes: The heightened VOCs in this type of paint produce more potent fumes that can persist, especially if the area doesn't have adequate ventilation.
Health Implications: Beyond the odor, the VOCs present in many paint types can be hazardous. Prolonged inhalation could lead to significant health issues.
Not So Smooth: If a silky-smooth surface is what you're after, exterior paints might not meet your expectations. They're engineered for durability over delicacy.
Unexpected Benefits: When Might Exterior Paint Inside Make Sense?
Every coin has two sides, and the reason we often weigh our options is to determine the best way forward. In the context of applying exterior paint to your indoor walls, here's where it might just excel:
Basements and Garages: These spaces can experience dampness or considerable temperature shifts. The ability of exterior paint to contract and expand without much problem makes it a strong contender for such environments. Plus, with improved air circulation, any initial paint odors can dissipate faster.
High-Traffic Areas: Does your hallway serve as a daily parade route for family and guests? Given the durability of exterior paints, they're equipped to handle the continuous wear and tear these walls undergo.
Let's Talk Money: Is Your Wallet Safe?
Often, homeowners think about cost-saving in DIY projects. Exterior paints, given their specialized additives, might be pricier than their interior counterparts. But it's not just about the price tag. Think about potential health hazards, or the cost of redoing the paint job if you're not satisfied.
A Snapshot: Weighing the Pros and Cons
| Pros | Cons |
| --- | --- |
| Durability in spaces like hallways | Potent, lingering smell |
| Potential moisture resistance in basements | Potential health hazards due to VOCs |
| Can be handy if you've got some leftover | Might not achieve that sleek interior finish |
The Bigger Picture: Thinking Beyond the Can
Painting isn't just about brushing color onto a wall. It's about creating an ambiance, ensuring the health and safety of your home's inhabitants, and making choices that stand the test of time. Need more insights? Dive into coordinating paint colors or figure out if it's time for a repaint.
At the end of the day, it's your home. Whether you're a DIY enthusiast or someone looking for expert guidance, always make informed decisions. If the world of paint seems overwhelming, remember: the team at Dependable Painting & Remodeling in Acworth, GA, is just a call away. Let's create something beautiful together.