Best Paint Brushes for Interior Painting
Whether you find your DIY project idea on YouTube or Pinterest, something you need to think about when starting a DIY painting project is paintbrushes.
Paintbrushes are the second most popular question we get asked here in Dallas GA at Dependable Painting when homeowner's are wanting to do a DIY paint job, next to the paint types and colors you want to use. When looking for a paintbrush for your project, you have to think about the size, brush shape, quality, and control you will have with the brush.
The size of the paintbrush matters the most!
This article will explain how to choose a paintbrush and give some recommendations for different types of brushes based on what kind of painting you'll be doing. When deciding to start a DIY project, make sure you are doing research on the best tools you should be using! This is essential.
Choosing the Right Paintbrush:
When it comes to painting, the right brush can make all the difference. Painting is one of those projects that looks easy until you try it yourself. Then you realize there's more to it than just slapping on some paint and calling it good.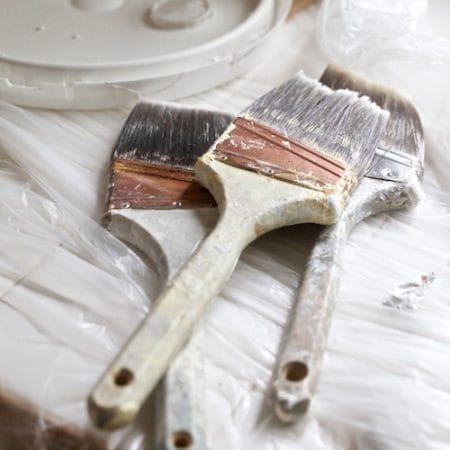 If you want your walls to look like a professional painted them, then you should use a high-quality brush that will give you the results you're looking for.
The Difference Between Angled and Flat Tip Brushes:
Angled brushes cut at an angle. They are best for corners, woodwork, molding, and all areas that need lots of detailed work.
Flat brushes cut straight across. They are best used for larger, flat surfaces and spaces where less detail work is needed. Flat brushes are professionals' favorite!
There are also foam brushes as well! These brushes apply a smooth finish to cabinetry, furniture, and trim!
The selection of size varies for each brush.
Paintbrush Qualities:
A good quality paint brush flexes and springs back into place. This is the number one thing you should look at when choosing a paintbrush.
Paintbrushes with flagged bristles provide a more even finish.
When the bristles are pulled apart, they will spring back together without exposing the handle.
Professional painters often prefer to use an unfinished wood handle because it does not slip through their hands as a plastic one will. This makes it more comfortable and easy to use.
When choosing handles, make sure it is comfortable, and easy to use and you can get a good grip with a good length!
Look for copper or stainless-steel ferrule rather than tin or silver-plated, because they do not rust easily.
The best part about a good quality brush is that it lasts a long time!
Sizes of Paintbrushes:
Larger paintbrushes hold more products, cover more surface area, require fewer coats, and cut a wider line. The larger paintbrushes range from 2 1/2″ to 6″.
4″-6″ brushes are ideal for wide-open surfaces like long, uninterrupted walls, ceilings, or garage doors.
3″-4″ brushes are good for walls, doors, and bookshelves. Produces a good result!
2 1/2″ brushes are best for more narrow flat surfaces like kitchen cabinets, baseboards, or molding. This is a very versatile size brush.
Smaller paintbrush options give you greater control for less effort needed. The smaller paintbrushes range from 1 1/2″ to 2″.
2″ brushes are good for cutting corners and edges where there is not a lot of space.
1 1/2″ brushes are ideal for molding, woodwork, and where precision and details matter. This size of the brush is ideal for painting trim.
You can purchase a set of different sizes, styles, and categories! All of these choices are good!
Paintbrush Bristles: Paintbrush bristles can have either synthetic or natural bristles. Synthetic bristles are the most practical.
Nylon & Polyester: latex and acrylic paints. These bristles have great paint coverage and provide good results and finishes.
Soft Nylon & Polyester: Use this type of bristle for all interior paint projects. They provide smooth application and lines, leave few brush marks, and hold a good amount of paint.
Extra-Firm Nylon & Polyester: Good for all interior paints, especially thick coatings, these bristles provide a sharp edge for controlled painting,
100% Polyester—Good for all paints, especially lighter or thinner coatings.
synthetic paint brush
The Best Paint Brushes for Every Type of Interior Painting Project:
A good brush has a sturdy handle that won't bend or crack under pressure or heat. It also has a wide head that holds plenty of paint but isn't so big that it takes forever to cover an area with one stroke.
The best paint brushes are made from synthetic fibers, which hold more paint than natural ones. They also don't tend to absorb moisture from the air as much as natural bristles do, so they're less likely to leave smears on your walls when it's humid outside.
To find the right brush for you, here are some tips:
Buy synthetic brushes only — they cost more than natural ones but last longer because they don't absorb moisture from the air as natural bristles do; 2) Choose flat-edged brushes over round ones — they're easier on your hand and better at spreading
What is the difference between natural and synthetic bristles?
Natural brushes often called "China brushes", are made of natural animal hair like boar, horse, or badger. This material absorbs oil-based paint quickly and leaves a smooth finish, depending on its quality.
Natural brushes can be cleaned and reused many times.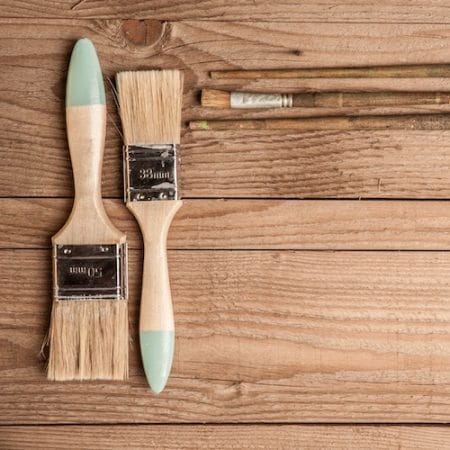 Synthetic brushes are made of nylon or polyester or a combination of both. This material loads up and releases water-based (latex) paint very well and leaves a smooth, even finish with few to no brushstrokes.
Similar to natural brushes, synthetic brushes can also be cleaned and reused many times. Synthetic brushes have great durability.
The choice between natural or synthetic is really a matter of personal preference. Both types of brush will last for years with proper care and maintenance.
Our Preferred Paint Brush:
The Premier Montauk Paint Brush
is a recommended paintbrush that is made of Dupont Tynex and Orel filaments which carry more paint to the tip of the brush while leaving a smoother finish. This brush is also stiffer and keeps its shape better than ordinary nylon brushes, which means it's easier to clean after use. This paintbrush is affordable price and a must-have!
The Montauk's angled tip lets you cut into corners while still doing a great job at general flat painting. The angled brush is great for painting along baseboards, door frames, and window frames.
Use this brush with latex or oil-based paints, stains, and sealers, varnish and primers on wood siding, trim, doors, windows, and cabinets!
It will leave behind only a smooth finish every time!
Best Interior Paint Brushes:
For Trim:
The best paint brush for trim is the one you can use easily and comfortably.
If you're just painting your room or doing a small project, using a cheap brush might be OK. But if you plan to paint the entire house or get into some serious DIY projects, investing in a high-quality brush will save you time and money in the long run. A 1/2″ brush is good for a trim project!
For Walls:
The paintbrush perfect for walls is a flat-edged, synthetic brush. It works well with all types of paints, especially oil-based paint, stain and varnishes. It's also the best choice for applying latex paint to large surfaces, such as painting walls and the ceiling. The right brush can make painting easier and faster. The wrong one will slow you down and make a mess of your work.
For Edging:
The paintbrush recommended for edging is a durable brush that will withstand the wear of multiple uses and cleanings. The best brushes are made from natural materials, like sable hair or synthetic fibers.
The first step in choosing your edge is deciding on the width of the brush. Edgers come in different widths, from 1/8 inch to 1/2 inch. If you are only edging small areas and corners, a smaller diameter edger may be appropriate. If you plan to use your brush for more ambitious projects, such as painting the outside of a house, consider a wider bristle size with more bristles per inch to reduce overspray and waste.
Once you've chosen an appropriate size for your project, it's time to choose which material is right for you. Both natural and synthetic bristles are available in many styles and colors ranging from black to white or even red! Natural bristles provide excellent control over paint flow, while synthetic bristles are more durable than their natural counterparts but may
Chalk Paint:
The paintbrush is the most important tool in your collection. A good quality brush will make your project go smoothly and quickly. This is why it is so important to invest in a quality paintbrush.
There are many different types of paintbrushes, but the best brush for chalk paint is one that has synthetic bristles. Bristles are made from nylon or polyester fibers. Natural bristles come from animals such as horses, squirrels, or boars.
Natural bristles are soft and flexible, but they absorb water easily, which causes them to become brittle over time. Synthetic bristles are stiffer than natural bristles and do not absorb water as easily as natural bristles do.
Whether you DIY or hire a professional company, our team at Dependable Painting and Remodeling specializes in customer service and likes to explain the process to you from start to finish.
Give us a call today to get your FREE quote from the top company.
Our website DependablePaint.net links you to all the information about anything you need to know about a painting project!