Here in Northwest, GA, we like to keep our homes looking nice and that means when the weather is just right, we get out the paint brushes and do a complete refresh on the interior and exterior of our homes.
So if you're painting the exterior of your house, or having it professionally painted, which is the better paint to go with… Behr or Sherwin Williams?
With all the television ads touting paint sales at the home improvement stores, and telling you this or that paint is so great, as professional painters, we want to share with you the difference between the exterior and interior paint products from Behr vs Sherwin Williams Paint.
Two of the well-known painting companies are Behr and Sherwin-Williams. Both brands have a large range of exterior and interior paints and stains at different price points. Likewise, both brands have a good reputation for durability and coverage. We'll give you a comparison between the two brands for exterior and interior paint. 
Behr Paint Vs Sherwin Williams
For EXTERIOR Paints:
Pros and Cons of Behr exterior paint:
Pros: Behr paint is easy to obtain if you have a Home Depot nearby. It can also be ordered online and shipped.
Behr exterior paint does not fade easily or crack. Although the paint may seem a little thick when applied, you don't have to worry about cracking later on.
Behr paint is known for excellent coverage, but that doesn't mean that you shouldn't use the usual two coats. It also plays nicely with paint sprayers.
Choosing among the Behr paints is streamlined, as there are three baseline exterior and interior paints, each offering flat, satin, semi-gloss and high-gloss finishes in all colors.
Cons: Behr paint doesn't play as nicely with paint rollers. You may find yourself going over the same spots more than with other paints if you like rollers.
Certain Behr exterior paints don't resist dirt as well as you might like, leading to a power washing session at times. Behr's Premium Plus Ultra Exterior is one exception, but their Marquee Exterior and Premium Plus Exterior do not contain the necessary ingredients to make them dirt resistant.
Pros and Cons of Sherwin-Williams Exterior Paint:
Pros: Sherwin-Williams offers several specialty paint options, such as paint with additives that fight bacteria and another choice with air purifying talents.
The Sherwin-Williams Emerald line is actually resistant to mildew, an important consideration in a humid southern state such as Georgia. Their Duration line also has some mold and mildew-resistant properties. Some of their paints, such as Super Paint, resist fading, peeling, chalking, and blistering in hot and humid conditions, which is something you'll need for the summers.
Sherwin-Williams paint is known for its durability and coverage.
Sherwin-Williams offers a wide variety of color options, more than some other brands.
Painting contractors often choose Sherwin-Williams paints because of their high quality.
Paint advice is easy to get. Just explain what you want to do and they'll help you to choose and acquaint you with what each type of paint does and any special qualities.
Cons:  Sherwin-Williams is a little pricey at the high end of their offerings.
This paint is only available at Sherwin-Williams stores. It can be ordered online but it must be picked up at one of their stores, so if you don't have one within a reasonable drive, it might discourage you.
What are the major differences between Behr and Sherwin-Williams?
Sherwin-Williams offers paints with air purification qualities, antibacterial ingredients, and self-cleaning paints. Behr does not.
Sherwin-Williams is known to be a bit pricier than Behr paints, so if you're budget-conscious, you might look at Behr.
Behr offers a lot of colors, but Sherwin-Williams is the only one to offer custom color formulas.
Service is rated as being better at Sherwin-Williams stores than at Home Depot. This is because they sell only paint, while The Home Depot sells a great variety of goods.
Sherwin-Williams is known to provide better coverage per coat, so while it may cost more initially, you may make it up by having to use less paint.
How do Behr and Sherwin-Williams compare in terms of price?
Behr's prices at the low end of their offerings are about the same as Sherwin-Williams's. At the higher end, Behr is usually less expensive. Before deciding on a paint brand based solely on price, you might want to check out some of the special features some paints have.
What is the ease of use like for each brand?
As has been mentioned, Behr paints do fine when used in paint sprayers, but can present a bit of a problem when working with paint rollers. Sherwin-Williams paints are easy to use and dry quickly.
For INTERIOR Paints:
Pros and Cons of Behr Interior Paint: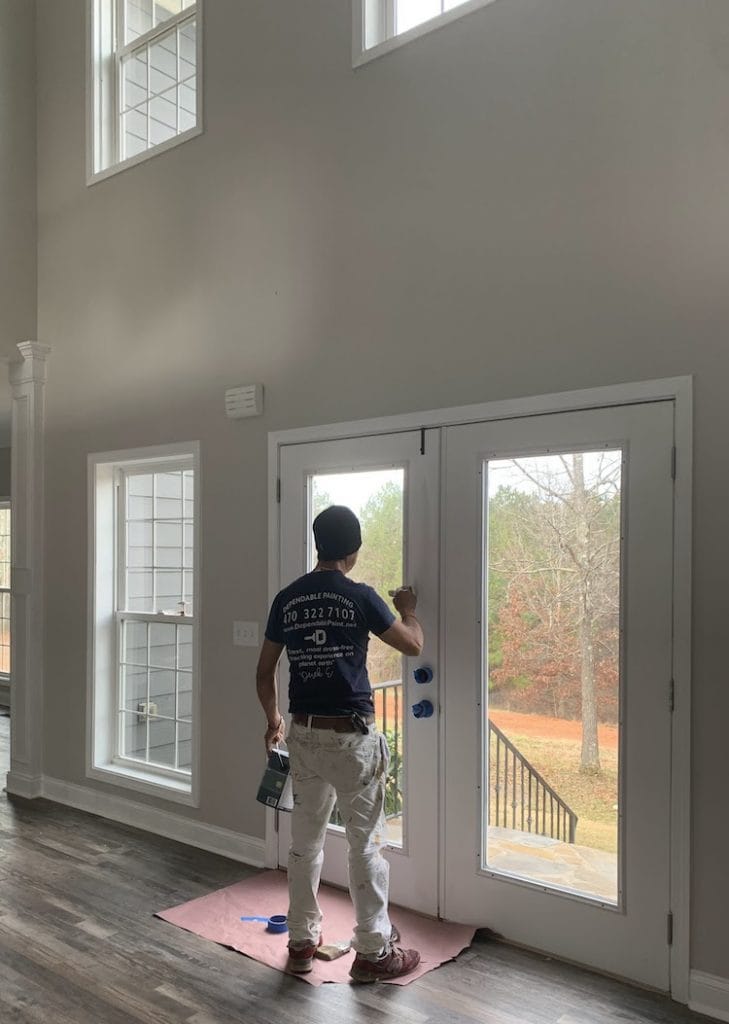 Pros: Behr is positioned as a premium paint for homeowners looking to do their own painting.
All Behr paints are touted as being paint and primer in one.
The Dynasty line boasts the best coverage of their paints and is scuff-resistant. This could be a consideration if you have kids. Even their less expensive lines are said to be resistant to stains and scrubbing.
Their Ultra line is designed just for high-traffic areas. Their most expensive line, Marquee, guarantees a one-coat job on most colors.
Behr offers online tools that help you visualize what particular colors will look like in a room.
Cons: Behr paints don't do well with application with rollers. This is a drawback when painting a room.
Behr's Marquee line is said by some professionals to be thick and a bit hard to work with.
Some users report that the paint finish can be inconsistent from one can of paint to the other.
Pros and Cons of Sherwin-Williams Interior Paint
Pros: The Emerald line of interior paints act as paint and primer all in one. It is also known to cover dark paints with ease.
The Emerald paints contain anti-microbial properties, inhibiting mold and mildew growth.
The SuperPaint line can usually take just one coat. It's also good for high-traffic areas.
Painting contractors prefer Sherwin-Williams.
Cons: The paint tends to be a bit thicker than some other brands. Applying thin coats will prevent clumping.
You have to purchase the paint or pick up your online order at a Sherwin-Williams store. This makes accurately assessing your needs a must if you live very far from the store and want to avoid a return trip to get more.
What are the major differences between Behr and Sherwin-Williams?
While Sherwin-Williams tends to be a bit thick and care must be taken to apply thin coats to avoid clumping, it's generally thought to be easier to work with, especially if you're using paint rollers.
Behr paints are generally marketed to those who will do their own painting. Painting contractors prefer Sherwin-Williams.
If you've got your heart set on a particular color, Sherwin-Williams has a larger color choice and also offers custom colors. Behr does not.
Behr offers online tools to help you envision what particular colors might look like in a room. Sherwin-Williams does as well, but also allows you to upload an actual picture of your room to paint virtually.
Behr offers liquid paint samples that you can order online. They offer letter-sized painted cards but only in whites, grays, and neutrals. Sherwin-Williams offers large peel-and-stick paint samples so you can put them on your wall and compare without having to wash a brush later. However, these are only available in the most popular colors.
While both brands offer paints with low amounts of Volatile Organic Compounds (VOCs), some Behr paints offer lower or no VOCs. These compounds can cause headaches, respiratory irritation, and nausea.
How do Behr and Sherwin Williams compare in terms of price?
Behr is generally less expensive, especially when you get to the higher-end lines. However, if you have to go over the same places more than once to get Behr paint to behave with your paint roller, you may have to use more paint, which can even out the price. At the lower ends of their lines, the prices are closer. Both brands vary in price depending on the finish you choose. Flat paints, for instance, are less expensive than glossier finishes.
How do the quality and durability of each brand compare?
Sherwin-Williams paint jobs tend to last a few years longer than Behr paints. Their coverage is said to be better as well. You'll have to repaint more often with Behr paint.
Both companies offer some special qualities to some of their paints. However, Sherwin-Williams is the only one of the two to offer anti-microbial and air purification qualities in some paints. Both offer paints that are good for high-traffic areas in your home.
What is the ease of use like for each brand?
Both do fine with paint sprayers, but Behr paints sometimes have a problem with paint rollers.
Both can be a little thick at times. Of course, haven't we always been told that two thin coats are better than one thick one?
Where do I purchase Behr or Sherwin Williams interior paint?
Sherwin-Williams paint can be purchased at one of their stores or ordered online, but it must be picked up at a store. Behr paints can be purchased at The Home Depot or ordered online and the paint will be shipped to you.
Conclusion
When it comes to Behr vs Sherwin Williams Paint, is there really a better one or does it depend on budget, time, and expertise? The choice between the two brands does depend mostly on your personal choices.
Behr is generally marketed to the do-it-yourselfer, while Sherwin-Williams is the choice of painting contractors between the two.
It comes down to that old adage, that you get what you pay for. If your budget is tight or if you would like to redecorate every few years, go with Behr. If you want a little better coverage, durability and a longer-lasting paint job and are willing to pay for it, choose Sherwin-Williams. Other considerations include whether you want a custom color, special paint properties, whether you like to change the colors in your rooms occasionally, etc.
One tip is to choose the brand before picking colors. Talk to service people at both stores about your project and see what type and paint line they recommend for your particular project. This could really help you decide which brand is right for you.
Of course, if you haven't been involved in a large painting job, the job just seems to be beyond your experience, or you just don't have the time for it all, it doesn't hurt to get a quote for professional painting services. Our team at Dependable Painting and Remodeling specializes in customer service and likes to explain the process to you from start to finish. Give us a call today to get your FREE quote.