Two-Tone Interior Walls
The two-tone wall paint trend in homes doesn't seem to be fading anytime soon, and I think that's a good thing. It's gorgeous, easy to achieve, and creates an awesome focal point in any room, bedroom, bathroom, kitchen, living room, dining room, or even hallway!
A good place to have a two-tone look is in your living room! Your living room has a lot of playroom for painting with a fireplace, sofa, and other decor you can base your color scheme off of!
If you haven't jumped on this bandwagon yet, here are some reasons why you should:
It creates a focal point in any room.
The best way to create a focal point in any space is by using the same color on all four walls. When you do this, the room looks smaller because all of the attention is drawn to one spot. By using different tones of the same color, it draws attention to another spot – which makes the whole room look bigger and more interesting.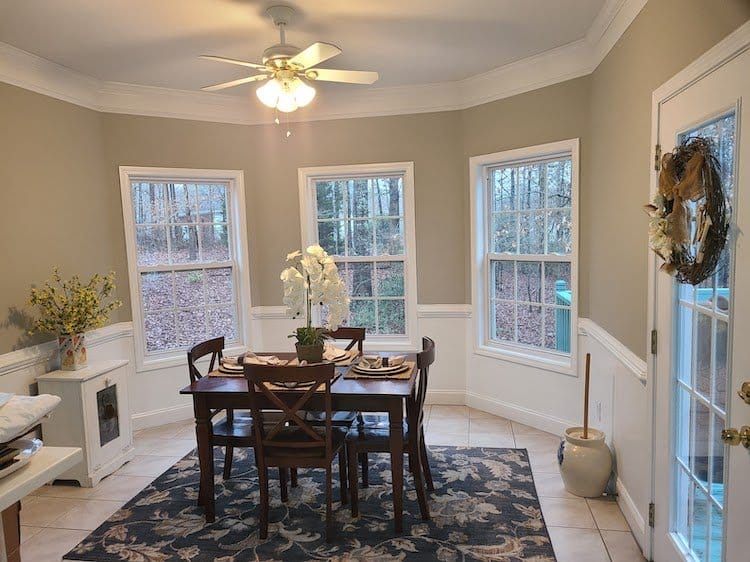 It's easy to achieve.
All you need is a little planning and some painting! It doesn't take much time or effort but creates a big impact on your home.
You can do it yourself. It may seem like an intimidating task, but if you know what you want, it isn't as difficult as it may seem! You can find inspiration and tips on any Pinterest or Instagram page!
Are two-tone walls still in style?
Two-tone living room walls are becoming more popular in new home construction. The way you design your home is completely up to you. Two-tone walls can create a statement in a home office, living room, or dining room!
You can even create a two-tone wall with wallpaper!
Do two-tone walls make a room look bigger?
Yes!
A two-tone living room wall can make the room appear larger. They can also create a more sophisticated look. If you want to make your room feel bigger, here is your sign to remodel and repaint the interior of your home in two tones!
You can go with any color scheme you want! Whether you decide you want to use yellow, red, orange, purple, brown, pink, turquoise, or even mint! Any of these colors can help create any look you want!
Should the darker color be on the top or bottom of the wall?
Painting walls in different colors is a great way to make a room appear bigger. Painting a darker color on the bottom half and a lighter one on top that blends into the ceiling shade can make the room seem taller, as there is no abrupt finishing line.
With interior paint, you always want a darker color on the bottom and a lighter color on the top!
Colors like light blue and lavender are good for small rooms because they reflect light, making them look brighter. For large rooms, you can opt for dark colors such as black or navy blue because they absorb light and make the room appear smaller.
Benjamin Moore and Behr have great options for a paint color!
Accent walls are also a good idea if you want to add some drama to your living space. The best idea is to paint an entire wall in one color, leaving enough space for another color behind furniture items, for example, curtains, rugs, couches, a chair, or a table!
How high should a half-painted wall be?
Artists, photographers, and designers all use the "rule of thirds" to create visually interesting compositions, and you can too.
Imagine that your wall is divided into three equal parts horizontally, like layers of a cake. By placing your focal point (in this case, the painted line) where two layers intersect, you can create more visual tension than if the line was dead center.
If you want to go even further, try breaking up your wall into nine vertical sections instead of three horizontal ones. This will give you even more opportunities to create interesting compositions by placing your focal point on one of the lines created by these vertical divisions.
The best part is that this trick works on any size of painting — not just those in oils or acrylics!
How do you paint a wall with two tones?
Painting your walls is one of the best ways to make a room look more modern and stylish. But how do you paint your wall with two tones?
Can you make a room look like two completely different areas?
A lot of people think it's impossible to paint a room with two different tones, but it's not. All you need are some paint samples, a ruler and some tape.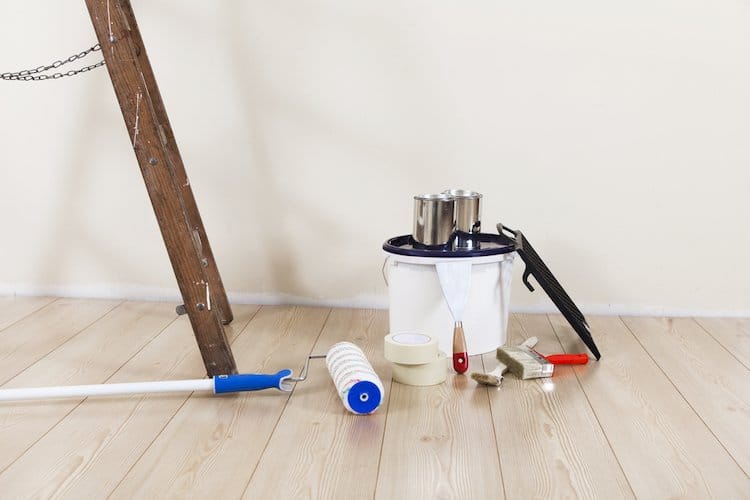 The first step is to measure the height of your room's walls and divide them into sections. If there are windows or doors at the top or bottom of each section, leave enough space between them so that your measurements will be accurate.
Once you have measured each section, use masking tape to mark off where the top of each wall should be painted.
The bottom half of the wall should be left unpainted for now. You can also use masking paper or blue painter's tape instead if you prefer not to cover up any part of the wall with tape. Once the top half is painted, then you can proceed to paint the bottom half.
How to make a two-tone living room wall paint scheme work for any type of home?
Interior design is not hard to learn how to do!
Picking paint colors, shades, and the color scheme you want is the hardest part!
Add decor that complements the home and the color scheme and colors that you choose to go with. Earthy tones with gold accents can really make a room pop and can create inspiration for other people.
Another option is to go with colors that make your house feel like a home!
When it comes to your home, you are the designer and should do what interest you and want ideas that will make you happy!
Creative ways to divide a two-tone wall
The most popular colors for two-tone living room walls are white and gray.
Other popular color combinations for two-tone living room walls include beige and white, blue and white, and green and white. Using wallpaper with designs or decor can create an amazing contrast between the colors.
Remember to Choose Dependable!
Dependable Painting and Remodeling is here to help with any painting needs to may have! Whether it be interior or exterior, we have the best talent in order to achieve anything you want!