Timeless Kitchen Color Schemes
If you're anything like me, you probably don't want to have to paint your kitchen again for at least the next decade. Plus you don't want to decide that now is the time to repaint that room in your house, only to discover that the colors on trend last winter are now totally dated (and also, you would need a new coat every year).
So how can we avoid this cycle of costly design choices?
The answer is timeless kitchen color schemes. These classic combinations will never go out of style because they were never in one in the first place!
Interior design can help you turn your house into a home!
Here are some of the kitchen color trends.
Beige
A beige kitchen is a great choice for those who want to create a classic and timeless look.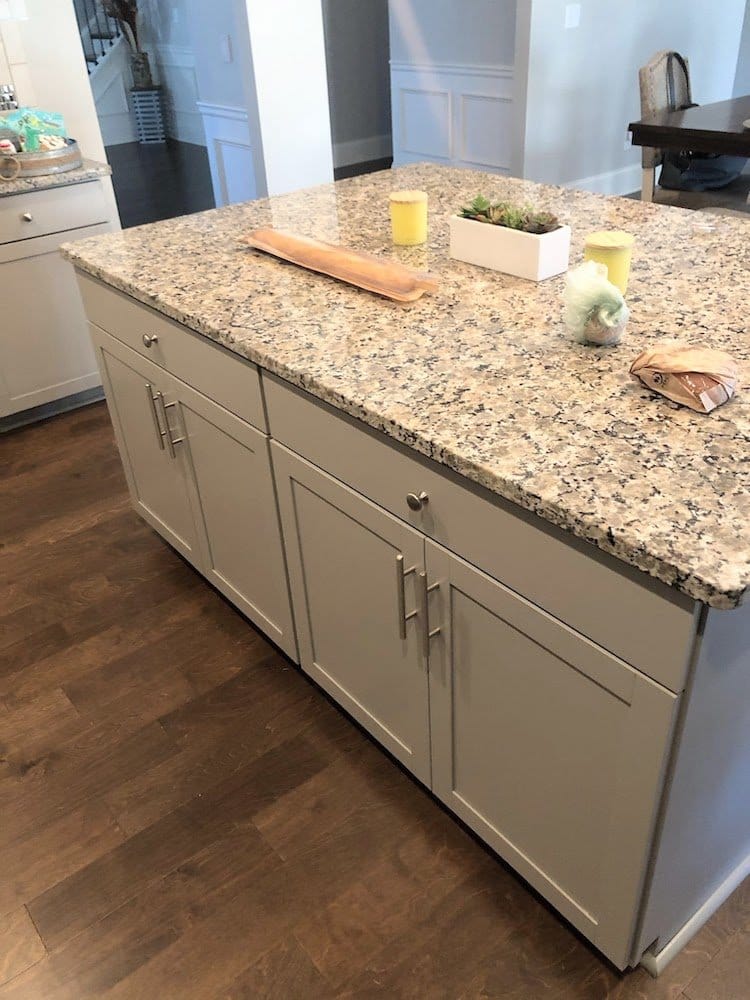 The color can be used in any room of the home, such as in dining rooms and living rooms. Beige works well with other colors, so it's fun to experiment with different shades of beige when designing your room.
If you're searching for a neutral color that won't go out of style and stand the test of time, beige may be the right choice for you. Plus, beige cabinets have the added bonus of being extremely versatile and able to work with a variety of different kitchen designs including, traditional, farmhouse, and modern.
Beige is also a great color for kitchen cabinets because it's easy to clean, making it a good choice if you have children or pets that are prone to making messes in the kitchen area.
It can also create a farmhouse kitchen look!
You can use a darker brown touch to create accents as well.
Black & White
Black and whites are a classic combination.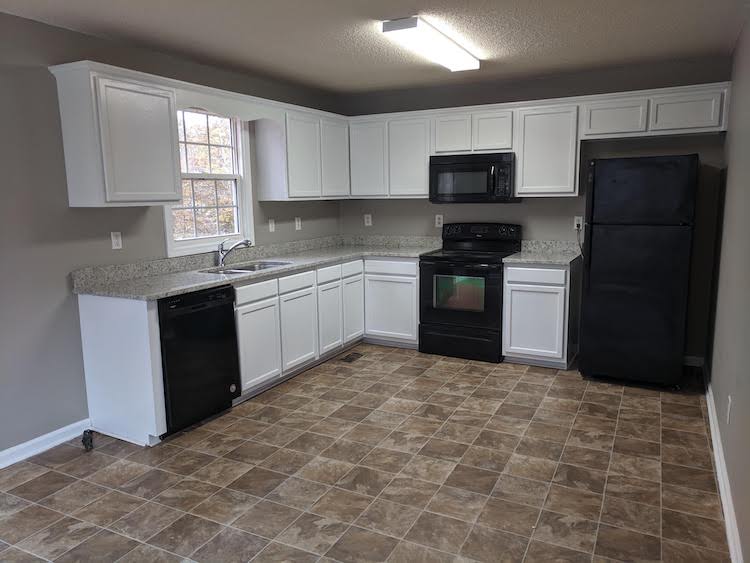 It's a color scheme that can be used anywhere in the home, including your kitchen. The black and white kitchen is one of the most timeless color combinations that you can use in your space.
When it comes to designing with black and white, there are many ways to go about it. You can go traditional or modern with this look – it's totally up to you!
If you're going for more of an industrial feel in your home, then this combination will work perfectly. Incorporating light fixtures can help bring your inspiration to life.
If you're going for more of an elegant look, then try incorporating grey into the mix as well! Because while the style of cabinets you choose can come and go out of style, the color white has remained popular for centuries and is still getting strong today.
If you're looking for a timeless kitchen cabinet color that is a bit more forgiving than bright white, then off-white might be the right choice.
Black and white checkerboard floor, purple or pink walls, or kitchen cabinets create interesting modern kitchens.
If you have white kitchen cabinets, you can go wild with purple and pink.
Gray
Gray is a neutral color, which means it doesn't clash with any other colors you may have in your kitchen.
It's timeless and works well as an accent wall or as the main background for your space. Use gray cabinets to create a cohesive look for your kitchen, or choose gray countertops that complement the rest of the room.
Like black cabinets, which also have the added benefit of requiring less upkeep and maintenance, gray cabinets tend to show less grease or fingerprints compared to lighter colors.
Gray is also easy to match with other colors—it pairs well with lighter and darker shades of blue, yellow, and orange. If you want to introduce some warmth into your kitchen without adding too much color, use earthy tones like tans and browns instead of reds or greens.
Blue
For those that want to move away from neutral earth tones like off-white, beige, and gray, and looking for a pop of color, navy blue is a great color option for kitchen cabinets.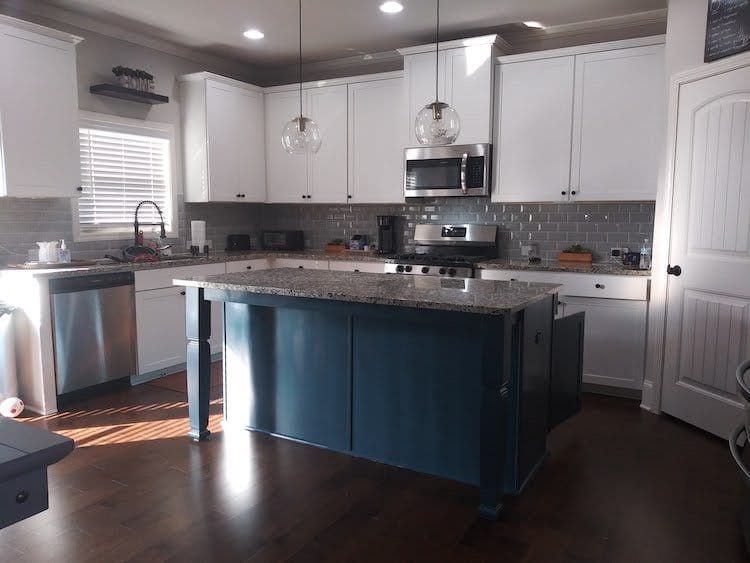 As the color allows you to make a statement with your kitchen without being too over the top. Plus, navy blue is a timeless kitchen cabinet color that will never go out of style. As the color has a rich, luxurious effect, it is perfect for any kitchen.
Blue is a classic color, and you can use it in almost any room. It's a good choice for your kitchen because blue is associated with calmness and serenity.
I like to think of blue as a neutral color that works with every other hue out there. You can use it as an accent or as the main color, depending on what look you want to achieve.
Either way, this timeless kitchen color scheme works well anywhere from modern kitchens to rustic farmhouse lofts!
Green
Olive green is another timeless kitchen cabinet color that has been gaining popularity in recent years. And it's not hard to see why, as the color has a rich, luxurious look that is perfect for any kitchen. Green is a soothing color and the shade of spring, which makes it a great choice to complement any kitchen.
The color green can also represent nature, so it's an easy way to incorporate natural elements into your decor, like plants or even fresh herbs (if you're feeling particularly ambitious).
If you want something that's less earthy and more sophisticated, consider painting the cabinets in your kitchen in this shade:
Yellow
Yellow is a good choice for many kitchens.
It's a happy color that will make your kitchen feel cheerful and bright. However, too much of it can be overpowering, so use it sparingly and in moderation. Consider using yellow as an accent color rather than the only color you use in your kitchen design scheme.
Yellow works well on walls, cabinets, or countertops; it also pairs well with complementary colors such as green and blue.
Orange
Orange is a great color for a kitchen. It's happy and fun, so it can be used to brighten up your day or make you feel confident when you're in the kitchen. Orange works well with other colors like yellow, red, green, and blue.
It can also be used as an accent color or as the main color too!
Red
Red is a strong, dominant color that can be used to add drama and contrast to a room. For example, red is a great choice for an accent wall. Red also pairs well with other bold colors like orange or yellow.
If you want to create a more neutral palette in your kitchen, choose a red that has warm undertones (like terracotta) rather than cool undertones (like burgundy). Lastly, consider painting the island or dining table in this timeless hue!
Remember that with any of these colors, a backsplash will always create great accents for any cabinetry!
Stone, wood, and concrete can be great touches.
To avoid having to redecorate your kitchen, look for colors that will stand the test of time.
To avoid having to redecorate your kitchen, look for colors that will stand the test of time.
Beige, black and white, gray, blue, green, and yellow are classic kitchen colors that will never go out of style and will always create sophistication.
Orange and red are more modern options that will give you an updated look without having to change all your appliances and fixtures or buy more materials.
Conclusion
You can find inspiration from a designer or even Pinterest. We hope that our recommendations can help you decide on a color scheme for your kitchen. While we've provided some options, there are still many others out there to choose from.
The key is finding the perfect combination that suits your taste, vibe, lifestyle, and personality.