PAINTING OVER WALLPAPER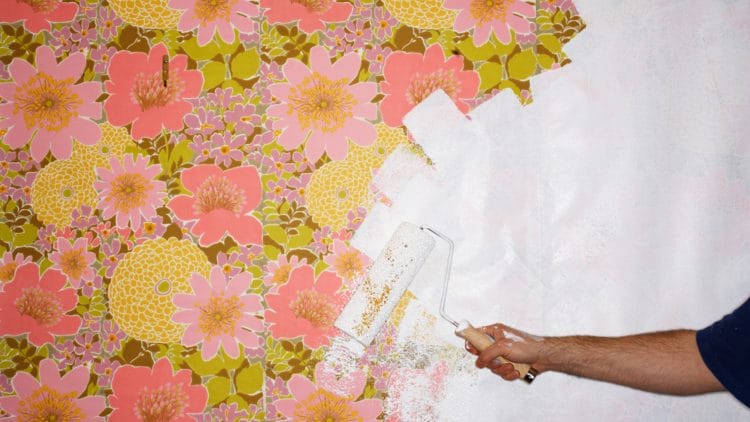 What if I told you, you could change the look and feel of your room by doing some painting over the wallpaper? It sounds crazy, right? I had the same thought when I first heard about it, but it is actually quite doable. You don't always need to remove the wallpaper first, but sometimes it makes sense to remove it.
If you are doing some painting at home, you might be contemplating whether you should paint over the wallpaper with a smooth coat of paint, or remove it first. I certainly would not blame you for wondering this, as the decision is not an easy one to make. Although you could easily skip over this and just remove the paper, there are some situations where it makes sense to paint on top of the paper. Now, before I justify painting over the paper, let me address the giant elephant in the room – can it even be done?
Can you paint over the wallpaper?
When it comes to painting walls in your home, it is tempting to ignore one of the golden rules of painting: that you should remove the existing wall covering when you are ready to paint over it. Removing wallpaper that does not adhere well is relatively easy, but actually can be very tricky if the wallpaper was installed over a previously painted surface.
When not to paint over wallpaper.
Some wallpaper should not be painted over. That would include wallpaper that is peeling in multiple places and certain types of wallpaper such as fabric-backed vinyl.
There's nothing wrong with wallpaper. It serves a purpose, in addition to making your home more stylish. But let's face it: For whatever reason — aesthetics, boredom, a bad case of the Animal Huts—wallpaper can seem, well, dated. If you have wallpaper and are looking to change it up—don't fret: You can paint over wallpaper with no issues. Here's how.
Steps to paint over wallpaper:
Follow these steps to learn how to paint over wallpaper in your home.
Step 1: Clean your walls
Wipe the dirt and dust off the walls with a damp cloth. Primer does not stick well with dust on the walls. Leave time for walls to dry.
Step 2: Repair any damage to the wallpaper
Look for the weak stops in the wallpaper. Peeling seams or edges. If the wallpaper has texture, you want to make sure that you sand the wallpaper until smooth so you won't be able to detect texture in the paint. Make sure you wipe away dust with a damp cloth after sanding.
Step 3: Tape off molding and trim
Painting over wallpaper can be tricky. Taping is the key, especially in high-traffic areas like your kitchen or bathrooms.
Step 4: Prime the walls
If you are painting over wall coverings that have paper, vinyl, or cloth-like surfaces, then the top coating is a very important step. And here's why: No matter which type of topcoat you will be using—oil-based or water-based—you want to use an oil-based primer. That's because a water-based primer could soak into the wallpaper and loosen the adhesive. An oil-based primer will not do that. Just as with painting, use a brush to cut in the corners and edges, then use a roller to finish the big stretches.
Step 5: Start painting
Once the wallpaper is repaired and primed, you're ready to paint. It's really no different than painting any other surface. You'll want to make sure it's fully dry before starting, then apply your paint of choice in two coats. Give them plenty of time to dry between coats, depending on the paint as well as how much coat you need to cover the patterned surface.
Painting over wallpaper can be done, and sometimes it should be done rather than removing the wallpaper.
Choose Dependable!
At Dallas GA Dependable Painting, our professionals aim to deliver satisfactory services to help your home achieve its maximum aesthetic appeal. If you're looking for quality residential painting in Atlanta, GA, consider giving us a call at (470)322-7107. It would be our pleasure to assist you!