HOW LONG SHOULD I WAIT TO STAIN OR SEAL MY NEW DECK OR FENCE IN NORTHWEST GEORGIA?
Hi, this is Derek with Dependable Painting and today we are going to answer the question of how long should I wait to seal or stain my deck or wooden fence.
The answer is about four weeks but could be more.
If it has rained a lot during the first four weeks of having your deck or fence installed you go ahead and push it to six to eight weeks, equally if the wood came and it was super wet and green from the factory.
Then you would want to wait six to eight weeks to let it cure a little bit longer.
Why is StainingYour Deck or Fence Important?
If you want your deck and/or fence to last, keeping the surface in good shape is important! You can't just cover up the wood as it will eventually rot out.
Staining the wood helps prevent this from happening by extending the wood's lifespan and protecting it from the elements and weather conditions such as rain, hot summer sun rays, and harsh winters.
Staining your deck/fence is one of the best investments you can make if it's in need of a facelift. A good coat of stain will help protect and extend the life of your deck for years to come.
Why The Wood Has To Be Completely Dry
Staining wood is more intricate than just changing the color. Without proper application, your deck or fence may end up in worse condition than when you started.
Most people tend to think that when they have their deck or fence installed the wood is ready to be stained but in most circumstances, that is not the case. The wood used to build your deck, fence or pergola comes from a lumber yard that can be affected by rain and other elements delaying getting it stained.
There are multiple factors as to why staining wet wood is not a good idea.
First off, stains are very thin and when not applied correctly you are going to see streaks, blotches, and other imperfections.

Stains will not adhere to the wood properly if it is not dry. This is most prominent in oil-based stains, the layer of stain applied is typically going to penetrate the wood a lot thinner than if it were dry.
After a few times of heavy rainfall, the stain will most likely wash off. Water-based is typically more effective, however, the results are still going to be inferior compared to dry wood.
How Long Should You Wait?
Today we are working on a deck. It is about 9 months to a year, the owner said since it was installed.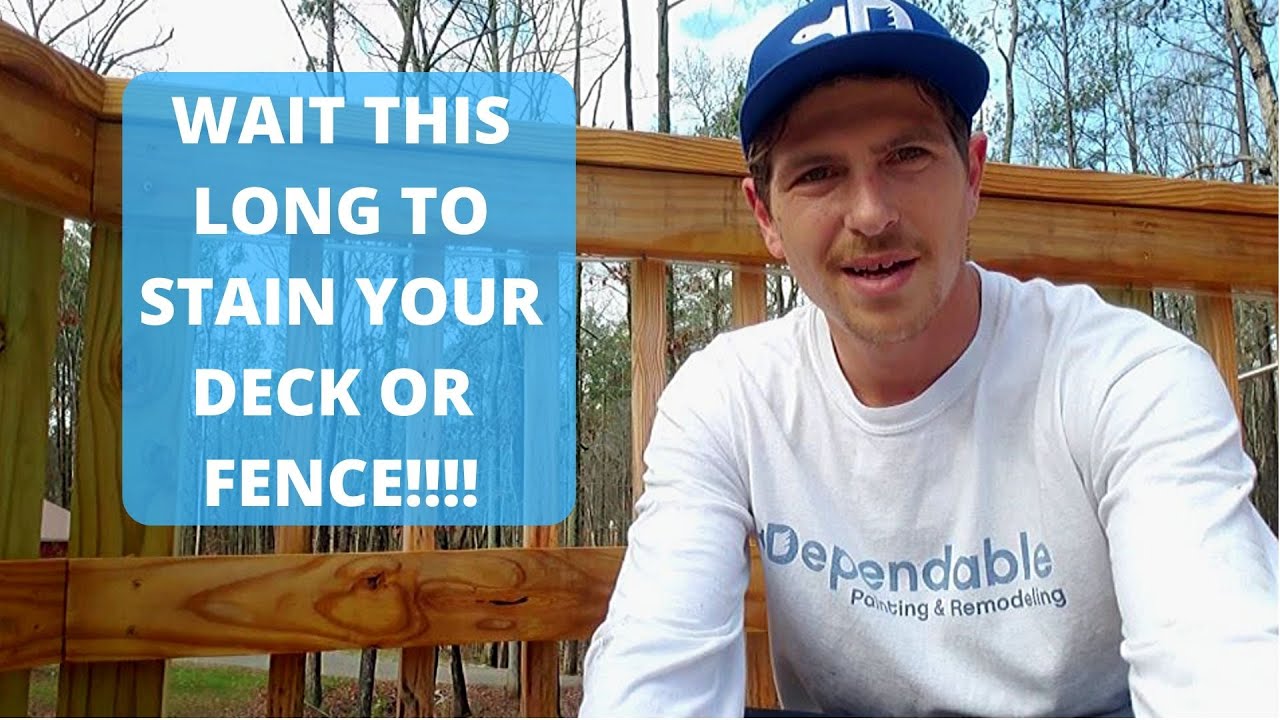 We are just now getting the call to seal it and I can show you if you come with me what happens if you wait. And you can see all the black mold on all the balusters and the two-by-fours.
So now we are going to have to powerwash that. Then we can proceed after it dries out to seal it.
This is why we recommend getting it done in the first 30 days. This way you don't have to powerwash it. Which are more time and more money.
Also if you're going to seal it we can answer the question on how long is it going to last so generally if you're doing a clear seal which is what we are doing here you are going to get two sometimes a little longer years out of it.
If you do a semi-transparent color stain you're going to get two to three years out of it and solid will last you the longest.
That's pretty much what we recommend it gives everybody that wow factor. That would last you about four years. Those are our color options.
My personal favorite is sealing it like we are doing today. It is going to give it a nice beautiful wet natural look. And it is also going to protect the wood as well.
So just remember if you're looking for painters in Dallas GA, Paulding, Cobb county, greater Metro Atlanta area, and all across Georgia, we are here to help you with all your fence and deck needs.
Interior and exterior, residential and commercial painting as well.
When you get a new deck or fence installed give us a call right around the 2-week mark we will get you set up and you will be right on your way to protecting the wood right along with that 30 days to 4-week mark. Thank you.