If you're tired of the same old boring wall color, why not try matching it to your hardwood flooring? It's a subtle way to add some pop to your home without putting in the effort of repainting all four walls, without talking to someone in interior design.
When it comes to flooring installation in Dallas, GA, we can help you choose which colors go best with the flooring you have in your home or you're looking at replacing it with.
According to a study by the National Wood Flooring Association, dark brown flooring is the third most popular color choice for wood floors, behind only dark walnut and cherry.
According to the website Floor Critics, dark brown floors are a good choice for high-traffic areas and homes with pets because they are less likely to show dirt, wear and tear, and pet hair.
Choosing accent colors or a color scheme can make the world of a difference!
Can you match your walls to your floors?
While it may seem like a no-brainer, matching your color walls to the flooring is not always easy.
For example, if you have dark brown hardwood floors and light-colored walls, chances are that's not going to work out in every room—you'll either end up with a dark room or an overly bright space.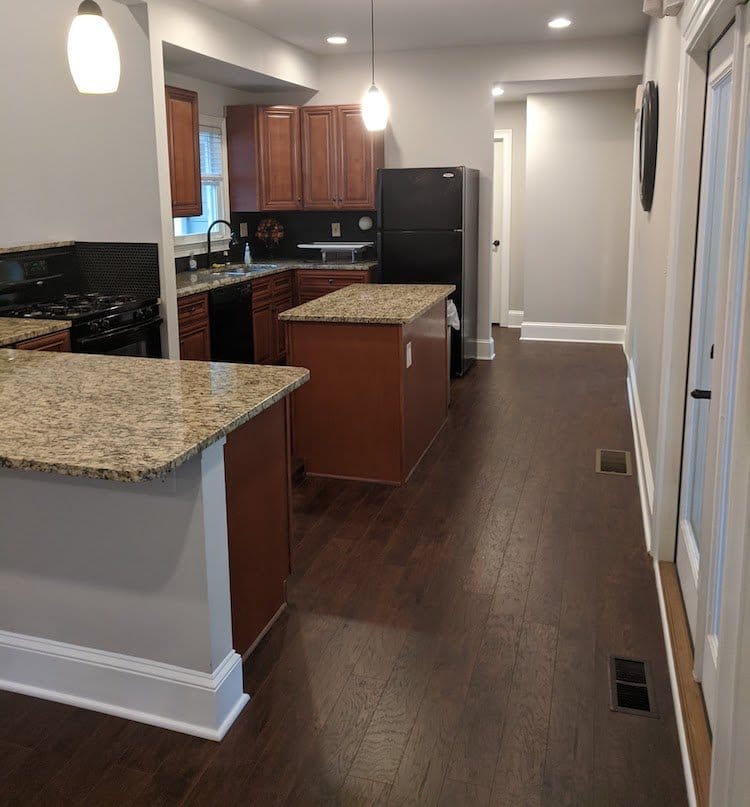 If that's what you're after, then go for it!
But if you're looking for something more subtle and cohesive, here is a list of advice on how to get the best finish:
Make sure both materials will complement (with undertones or in the same shades of paint colors) each other before making any decisions about interior paint color or carpeting. Pick up some samples of wood and wallpapers from your local hardware store (or online!) so that you can see what kind of effect they would have together in person; there are also plenty of apps out there that allow users to upload pictures of their rooms before choosing colors—these will help give an accurate representation of how different colors might look once applied on both surfaces at once rather than separately over one another as shown above).
If possible, make sure the two shades complement each other well enough so they don't clash when mixed together during the application process; this means making sure they're in similar hues, such as blue/greens versus reddish oranges (more on this later).
Light Floors and Walls
If you're looking for a light-colored floor, but want to add some drama to your space, try pairing it with a darker wall color. Dark walls are great at adding contrast and dimension to any space, while light floors can help create the illusion of extra height in rooms that might otherwise feel closed in.
This is particularly true if you're choosing a lighter shade of paint.
White is a good choice for both types of floors—it's often considered one of the most versatile colors available—but other pastels like yellows and pale pinks will also do well if they complement your décor a bit better than white does. But the choices are up to you as a homeowner.
Dark Floors and Walls
How to pick the perfect wall color to go with your dark brown flooring.
A dark floor and wall color combination will create a dramatic, bold look in your space. This is especially true when using dark floors and walls together. A lighter shade of the same color can be used to make the room feel lighter and more spacious.
The darker your floors are, the more they will pull focus on them if you have darker walls surrounding them. This can be a good thing or bad thing depending on what kind of effect you're going for.
Darker walls tend to make rooms feel smaller, while lighter walls open up spaces by making them appear larger than they really are (using grays can achieve this look).
Darker walls also give off an airier feeling when paired with light-colored floors, whereas light-colored floors paired with dark-colored walls tend to make rooms feel heavier and more formal in nature due to their lack of brightness (which is why we recommend sticking with light-colored paints).
There is also the option to compare or contrast using decor or even wood stain!
You can use a rug or pillows to create accents. Finding inspiration and recommendations from designers can be the most beneficial to achieve the finishes you want!
Neutrals
Neutrals are the perfect option for your space.
Your home's flooring is dark brown, which means that light or pale shades of color will look off in the space. However, you can use a neutral tone to still keep it feeling fresh and updated.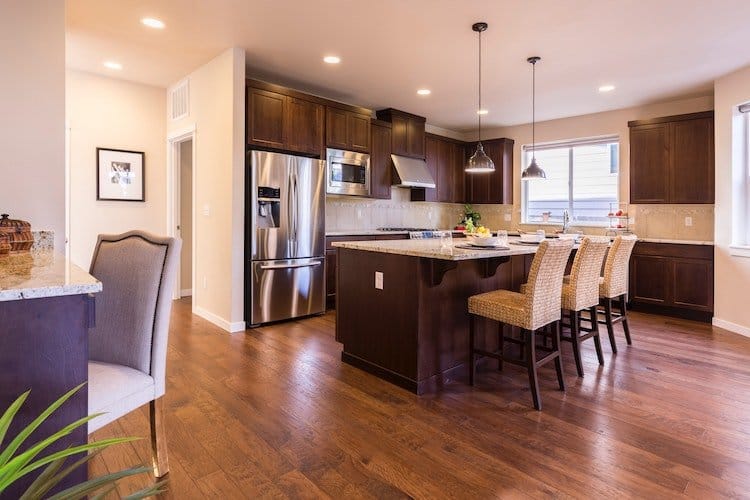 Neutral colors won't compete with the dark wood floors and they help create an elegant feel that works well with any style of furniture. A neutral tone you can use is any shade or undertone of taupe, cream, or beiges.
Neutral colors are great for any room where you want to be able to make changes easily down the line without having to repaint walls or replace flooring each time you change your decorating scheme. They're especially useful if you want to be able to mix and match different pieces throughout different rooms in your home—say, with an ottoman covered in a complementary shade of fabric that matches up well with both carpeted areas and hardwood floors!
Neutral tones can also work well as stand-alone options that don't clash with other elements like artwork but still add enough personality so as not to blend away into invisibility when placed against darker surfaces like dark wooden beams overhead (or even just plain old black paint to create warmth).
Any of these tips and colors can go with a dark wood floor.
Coordinating with Wall Trim
Wall trim is the narrow pieces of wood that go around the edges of the walls.
They can be painted, stained, or left natural. The color you choose for your trim depends on what you want in your room. If you choose to paint it, consider using a color that matches your wall or paint it a different color so it adds detail to any room, including the living room, dining room, kitchen, bedroom, windows, or whatever fits your vibe.
This can create depth in the window and you can choose a paint color that matches your wall color or even one that contrasts with the color to fit whatever atmosphere or appearance you are wanting to achieve. You can even coordinate with the color of the ceiling as well. This can help with the lighting in the area. You can paint your ceilings using the same color scheme as your walls or even plain old whites. Get creative!
There are a lot of options for wall colors.
When choosing a wall color, there are a lot of options. But because you're working with dark brown flooring, you want to choose a color that will complement your house. And not just any old flooring—you have a specific shade of brown in mind.
The best way to do this is by selecting a complementary hue—a color that's opposite to the wheel of your flooring. For example, if your floors are dark brown (also known as chocolate), consider using light gray or white walls to create visual contrast between the two elements in your space.
If you'd like a less dramatic look, try using tones that sit next door on the wheel: orange for chocolate; violet for black; yellow for green (though this may make things feel warmer than desired).
You can also skip complementary colors altogether: use an analogous hue instead—one adjacent to your flooring on either side of its location on the wheel (e.g., yellowish beige or blueish gray). While these won't provide as much contrast as accessories do, they'll still help prevent monochromatic spaces from feeling too heavy or overwhelming visually.
Conclusion
We hope this article has given you some ideas about how to choose the perfect color for your walls! Please feel free to contact us with any questions, concerns, or comments.
But no matter what color you choose, it's sure to look great! Dependable Painting and Remodeling is here to help with any paint job needs you may have!
Whether it be interior or exterior, or even flooring, we have the best talent in order to achieve anything you want!
Remember to take in all this information and give us a call so we can lend a helping hand to all homeowners!