Chalkboard Painting
Chalkboard paint is a coating that allows you to transform any surface into a chalkboard. It's a unique way to add color and style to your home or office, and it's easy to apply. You can even use it on furniture, walls and floors. Best of all, you can erase it with a damp cloth or sponge, so the surface is ready for more creativity at any time!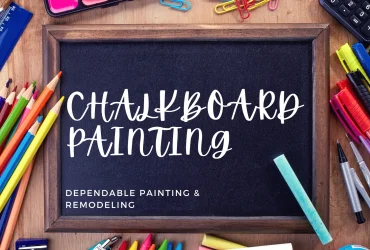 How Does Chalkboard Paint Work?
Chalkboard paint works in much the same way as regular chalkboards — you write on it with chalk and wipe it clean when done. However, unlike traditional chalkboards which are made of porous materials such as wood or metal, chalkboard paints are made from acrylics or latex which are nonporous. This means that they don't absorb moisture from regular chalk like traditional chalkboards do. Instead, they allow chalk to slide across their surface easily without sticking.
Chalkboard Paint Tips:
Create an area on your wall where you will be writing with chalk. Use masking tape or painter's tape to create the lines where you will be writing with chalk; make sure it's straight and even!
Prepare your surface by sanding down any rough spots or areas where there may be splatter from previous paints or stains that might not come off easily. Make sure the surface is clean and dry before applying new paint!
Apply two coats of chalkboard paint; allow each coat to completely dry before applying the next layer. You don't want bubbles or spots where there are still wet areas in between layers!
A typical coat of chalkboard paint requires two coats of primer followed by two coats of finish (the primer is needed because it helps the actual chalk stick better). You'll need to wait 24 hours between each coat so they can dry completely — otherwise they won't stick properly when you use them later on! After that, you should be able to use your new chalkboard as soon as 24 hours after you finish painting your last coat; however, waiting 48 hours will give you even better results.
Painting Tips:
Painting a wall can be a quick and easy project. You can do it yourself or hire someone to do it for you. Here are some of the best tips, tricks and ideas for painting your walls.
Choose a color that matches your style. If you're going with a bolder color, go with something like white or off-white as the base. This helps to tone down the brightness of the color while still giving you the effect you want.
If your walls are textured, smooth them out before painting so that you don't have any bumps or wrinkles in your final product. The smoother the wall, the better. Smoother walls are better for drawing and writing on after applying the paint. You may want to lightly sand the area to make sure it's even.
Should you prime your wall before painting? It mainly depends on the type of paint and the finish. You'll likely need a primer if you're painting over glossy paint. If you need to prime, go high-quality to hide the original color better.
What to consider before painting with Chalkboard Paint:
There are a few downsides to chalk, but the pros outweigh them by far.
Dusty: Chalk creates dust, meaning the inside of some areas of your home will get dusty quickly. This means more cleaning and possibly more sneezing.
Smelly: The chalk itself has a distinct and unpleasant odor when you use it. To cut down on this smell, try investing in colored chalk instead of white.
Messy: If you're using chalk outside and it starts to rain, there will be puddles of water everywhere that can make it difficult to walk without getting your socks wet — or worse, slip on wet grounds and fall!
Now, Have Some Fun!
Painting walls with chalkboard paint is a great way to add some fun and interest to your home. The best part is that you can use it for so much more than just writing on the walls.
Chalkboard paint is a great way to bring back those old school days when kids would write on the chalkboard during class. Now you can add this same look and feel in your own home. Contact Dependable Painting and Remodeling about painting it for you!