Painting a Brick House – FAQs Answered Here
Painting a brick house and wondering if it's a good idea or not?
There are many reasons to paint your brick home, even if there is just brick on the trim of your home. The biggest reason is to protect your brick from fading and deteriorating. Here are the answers to all the steps and tips you need to know in order to paint the brick of your home and get the best results.
Is it a good idea to paint a brick house?
While the value may increase because of curb appeal, painting brick can cause issues. Paint can trap moisture and damage the brick in the long term. It also can appear dirty and need to be power-washed, unlike unpainted brick.
Paint can also help reduce the fading and deterioration of your home exterior. It is easy to keep clean. Brick is naturally porous, so when left unpainted, dirt, mildew and debris can become trapped and difficult to clear away. Painted brick provides a smooth surface that is much easier to clean with occasional power washing.
What are the pros and cons of painting your brick house?
Cons:
Trapped moisture can damage it, so make sure it is painted properly.
It needs good pressure washing, often because of trapped moisture and debris.
It is a permanent decision. Once the brick is painted, it is nearly impossible to change the color of the brick once it has already been painted, so choose wisely.
Pros:
Curb Appeal: Curb appeal is the number one thing you need to think of when deciding to paint your home. Your interest is the second.
It can protect from other elements such as precipitation and seasonal weather changes.
What kind of paint do you use?
Latex paint is the best paint for brick, but you also have to seal and prime the brick before adding color to it. It is designed for brick or masonry. Latex is the best paint for brick because it leaves a nice coat of paint on the brick.
You can get Sherwin Williams or Behr Latex paint. Depending on the paint colors you want, it can depend on the brand of paint you choose to use. Make sure to speak with a professional painter if you are thinking of doing it yourself!
What is the best way to apply paint to brick? Spray or paintbrush?
You can use a paint sprayer for a larger surface area or a roller or brush for any size of the area, depending on what you prefer. The size of the paintbrush or other materials matters when you are doing any paint job.
What is the best color to paint a brick house?
Both white and beige because they offer a pretty appearance. White and beige are very clean colors. Creating a clean-looking home can increase the curb appeal by a lot. Remember to keep the curb appeal in mind when you are painting your home and how it is going to change the value of the home if you ever choose to sell your home.
How much paint do you need to paint a brick home?
To paint a brick house you need a gallon of paint and primer for every 250 square feet. This requires a lot of materials and paint in order to get your bricks to the desired look.
Materials and cost of painting are great things to keep in mind when deciding to paint your brick. Materials matter whether it is one, two or three coats to paint your home.
How much would an average 2,000 square ft home cost to paint the brick exterior?
Just to give you some ideas, the cost of painting a brick home can change between what kind of paint you want, how much it needs to be cleaned, and other factors that come into play.
On average, a 2,000-square-foot home can cost anywhere from $6,500 to $9,00.0 Something else that plays a factor in price is the number of coats that will be needed to paint your home to your desired image.
How to clean brick before painting?
Cleaning a brick home is a very tedious process. You will need to use a wire brush and soapy water to scrub the brick to remove any dirt. Most people don't realize that you have to clean a brick house really well before putting any paint on the brick. This is something that is tedious but will produce great results and make the durability of the paint better.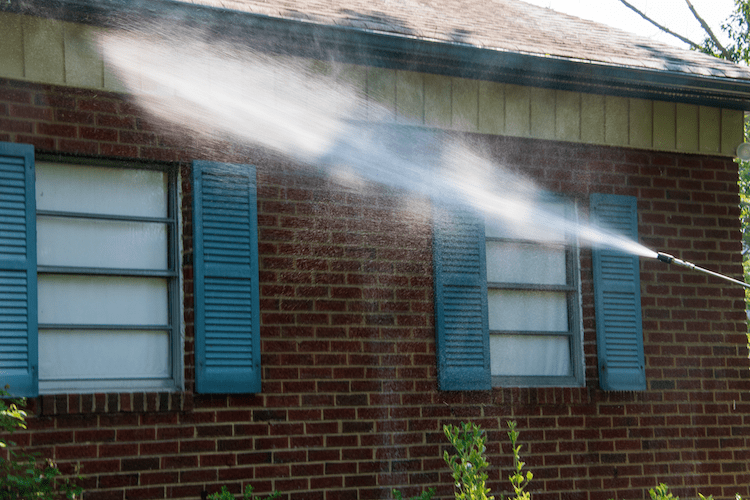 Choose a Dependable!
Whether you DIY or hire a professional company, our team at Dependable Painting and Remodeling specializes in customer service and likes to explain the process to you from start to finish. We have the best painters and are ready to take on your project! Choosing a professional ensures you get the best paint for your paint project!
Give us a call today to get your FREE quote from the top company.
Our website DependablePaint.net links you to all the information about anything you need to know about a painting project!